So is. Just a few days after our warning in this article, CTLE started engines and went up to $0.0006 in a spectacular three-day rally with an incredible volume.
The CTLE's bounce
Of book. An RSI in tiny values marking clear oversold, the PSAR about to break and a PPO and ADX approaching more and more. A cocktail of technical indicators that mixed together to create a perfect pincher play. This was the aspect presented by CTLE at the end of August:
As we expected, after a few intense days of accumulation in $0.0001 when they took the stock to no-bid, the price exploded, entering a three-day rally that took it up to $0.0006 in the middle of a tremendous volume. The Market Makers diluters disappeared by magic of the ask, giving free way to a meteoric rise, favored in large part by an OS of just 1B of shares that allowed an agile and fast movement as shown in the following graph: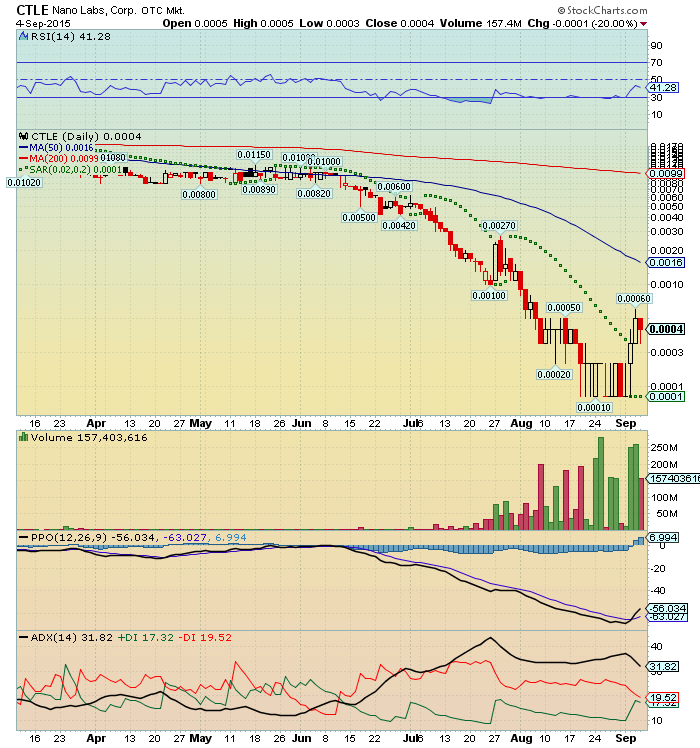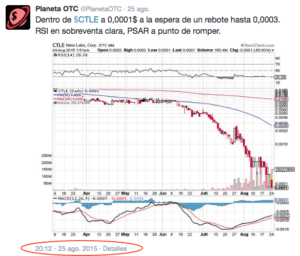 We did not want to risk and we left in $0.0003. Since we buy our shares at $0.0001 as we warn through our twitter, it means a revaluation of 200%, which is not bad.
If someone is still inside, even though the MM50 is at a very high level with respect to the current price ($0.0016) and both the RSI and the PSAR still have a journey, there are two main problems on the horizon:
One more than likely correction. Do not forget that the quote comes from 0.0001, where a lot of people bought tens of millions of shares and most of them settle for a x2 and x3 and do not wait for the big runs.
The company's own plans. If you plan to wait and let it rise more to continue the dilution process from above or, if on the contrary, you will start it already.
If you are still inside and have not sold and the probable correction occurs, you will be hesitating to sell your shares because it will be difficult to identify in the middle of the downside if it is only the necessary pullback for profit taking before continuing or if it is the company that is diluting as if there were no tomorrow. If you decide to wait and it's just a pullback, congratulations, surely you can sell the shares at 0.0010 or even higher. If it is the second case, you will probably have to sell at 0.0002 or even 0.0001 and you will not have taken advantage of the bounce.
So, as you can see, the current situation is delicate. That's why we always recommend taking profits without falling into the trap of greed. The ideal is to sell a part of the shares and ensure profits and, if the situation is interesting as in this case, where there is still a margin of increase by technicians and fundamentals (the company has not yet issued any press release), reserve another part In case there is luck and it can be liquidated above.
Good luck to those of you who are still inside and congratulations to all those who have already boxed. Hopefully the next runner is another of our candidates we talked about in August.