It has taken longer than we would have liked, but here it is: NSAV revalues a 400 % 1,400 % starring a prodigious climb to $0.0005 $0.0015 from $0.0001  in just a few days.
Triple zero stocks wake up from their lethargy
If you have been attentive to the OTC market these last weeks you will have noticed the amount of $0,000x shares that have been revalued: NSAV, MMXE, AFPW, RSII, ORRV, IBRC, USMJ, EEGI, OWCP, ONCI and several dozen more… Money has re-entered and has unleashed madness one more time.
We alerted NSAV on August 2015 after the increase of its AS from 3B to 10B of shares, when it was at no-bid, that is to say,you could buy shares at the cheapest possible price: 0,0001$. A long wait that, in the end, has paid off: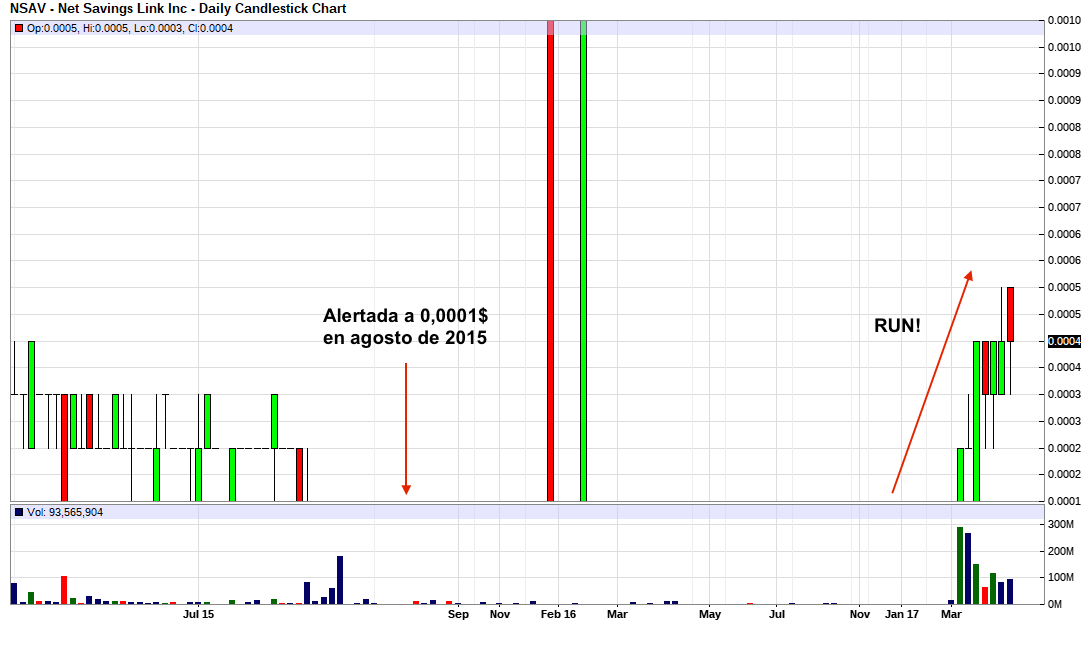 What has caused this rise?
First, an update of the company's profile at OTCMarkets, where his address was modified and matched with that of CHIF, another company that is also owned by NSAV CEO James Tilton. CHIF has entered the marijuana business, do you remember the effect that these news had in triple zero stocks back in 2014? On the other hand, the company changed its Nevada activity license to the state of Florida.
The two previous events, despite not being accompanied by an official press release, were enough to start warming up the discussion forums on the internet and boost the price from no-bid ($0.0001) to $0.0003. Shortly after, the first PR was issued in which the CEO detailed that they are preparing the pending filings to return to the status of OTC Pink Current Information and that an 8K report will shortly be published detailing the acquisitions that will be made. the company (in the field of cannabis is understood).
What can we expect?
The stock already accumulates a large increase. As always, it is recommended to take profits during the run, since most of these actions undergo a very intense and short cycle of pump and dump and this action, in particular, has already delivered a large capital gain. In no other market is it usual to see how the price of our shares multiplies by four or five and, in addition, so fast, right? Always remember that greed tends to break the sack.
The above does not imply that the quote can not make a visit to environments of $0.001-0.003 if the address has prepared something interesting and the press machine is well oiled. Very soon we will discover …
Update: 28 March 2017
What a party this bird has mounted! A torrent of explosive PRs has caused the breakage of the channel that kept it at 0.0004-0.0005 $, leading it to caress 0.001 $ and almost eliminate a zero of its price. What has caused this second leg-up?
No Reverse Split confirmed
AS reduction of 2.5B shares and another potential 2.5B reduction in the future
Dividend/Spinoff
Cancellation of 3B shares of KBM Worldwide (toxic lender). This could be be the most important
No dilution. OS is stable at 3.1B
This explosive cocktail of news, plus the catalysts that still remain in the chamber are taking it to the clouds: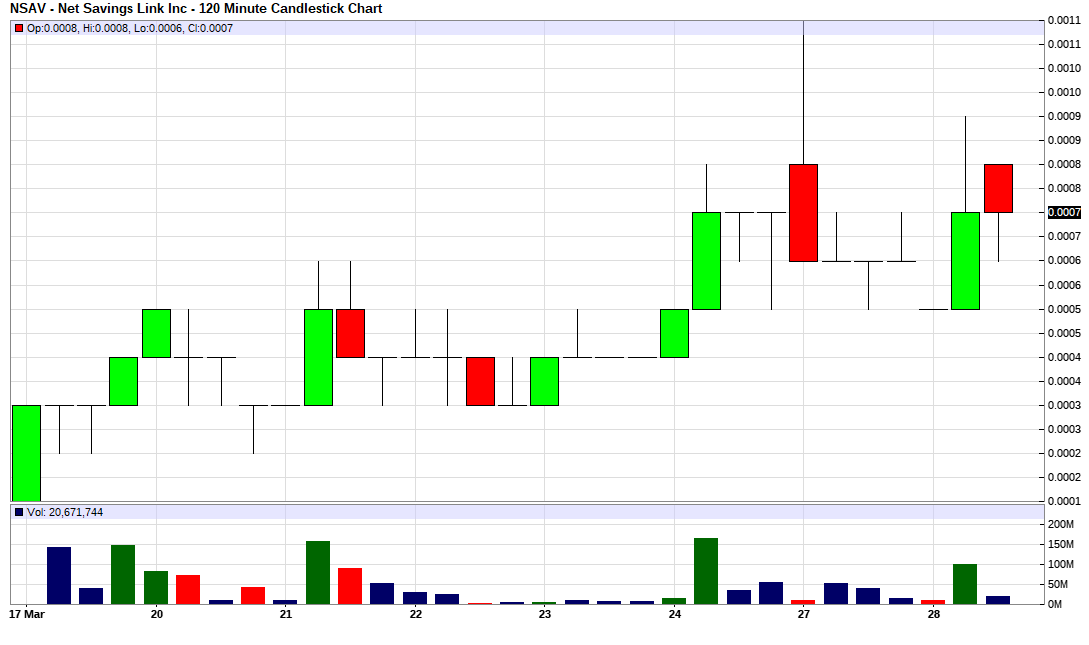 In more than 5 years operating in the OTC market, he had never seen such a communicative and transparent CEO: through email, Twitter, Facebook and PRs. This does not mean that NSAV is a legitimate company, much less, but it can guarantee a rise as spectacular as the one that is taking place.
Update: 22 May 2017
Another series of news got her to break the ceiling that was in $0.001 and took it to $0.0015. For all those who bought shares at $ 0.0001 this is a return on the 1,400 %. Incredible.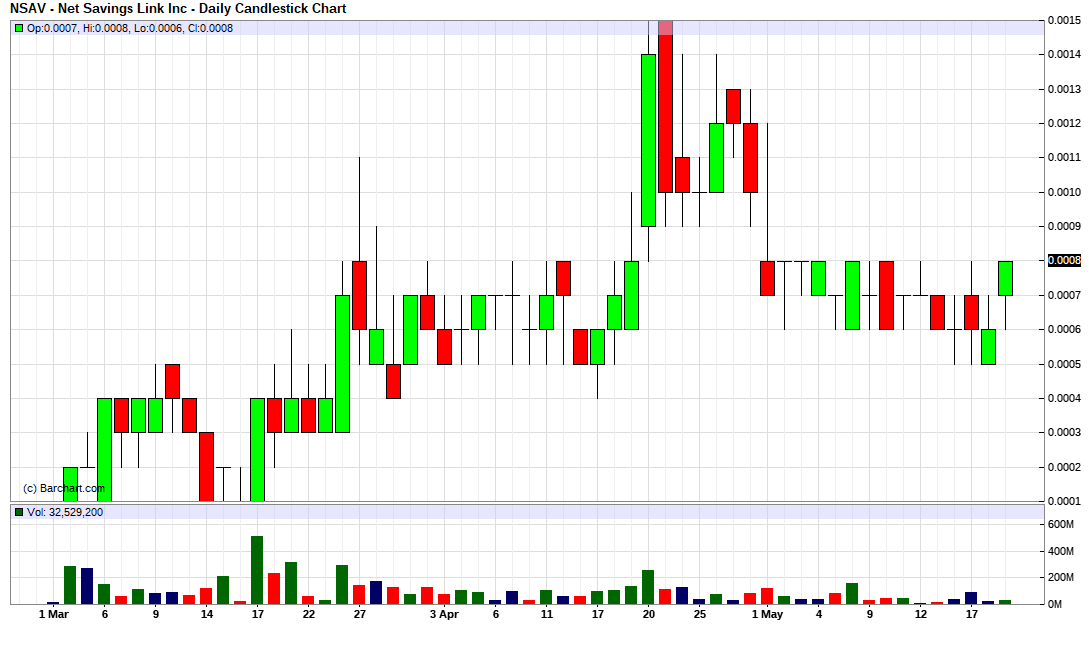 How far will this run?