SWHI ended up revaluing 300%
We talked about it in mid-August, in this article of analysis, where we also warned of the great opportunity that was CTLE, which was quicker and only took two weeks to bounce, delivering a juicy profitability of 500%. At that time, you could still buy shares on the ground floor, at only $0.0001.
The news began to arrive a few weeks later, until nothing more to start November, the volume skyrocketed and the stock was quoted at $ 0.0004. Given the good structure of OS and float that the company had, they could have scraped some more of that run, but the promoters had almost 500M shares distributed among several individuals and they were acquired at zero cost ready to be dumpered (check the table of the original article).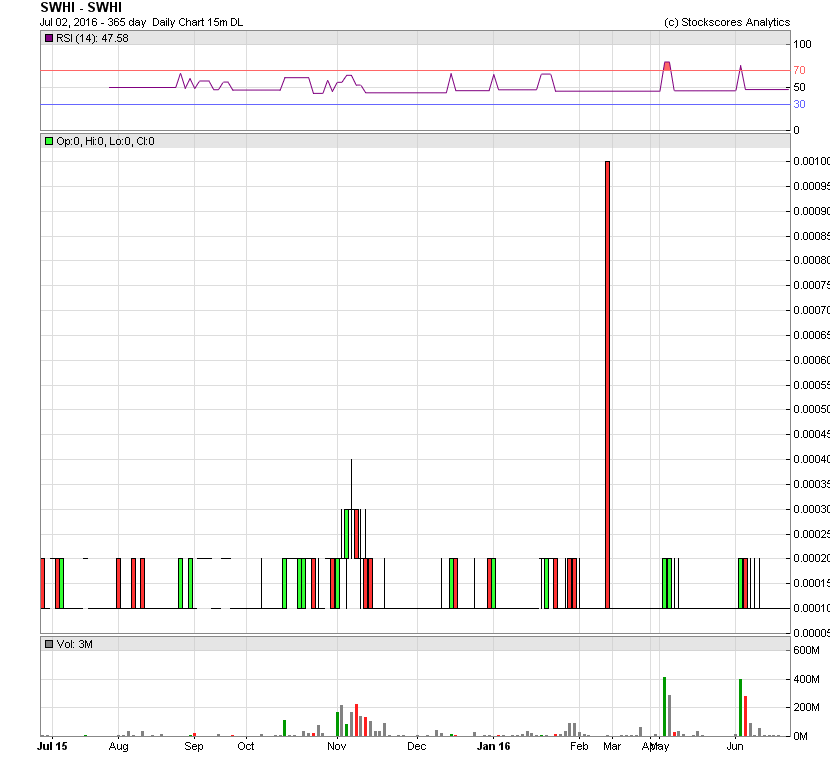 Still, it's not bad for a triple zero. In fact, the average rise in this type of stock usually occurs from no-bid to reach a bid of $ 0.0003 and a ask of $ 0.0004. Everything that exceeds these limits, becomes an authentic gold mine that lately is rare to see but that in times of bonanza is the daily bread, as we could contemplate during the recent cannabis bubble.
This increase, unfortunately, coincided with the operational blockade of the Spanish broker from where the majority of OTC Planet users, including us, invested. We are aware that some people sold their shares ahead of time for fear that the blockade would catch them with the shares still in the portfolio and had to pay lifelong custody fees.
Negligent management by Self Bank and many pressures from KCG to force as many investors as possible to undo their positions in the OTC as soon as possible to avoid problems, threatening that a final blockage would eventually occur that would prevent, definitely, the purchase-sale of the securities in the portfolio. Something that, of course, is totally illegal and that to this day has not yet occurred.
In future articles we will be updated with the rest of the actions we had in follow-up (CFGX, NSAV and AZFL) and the operational status of the OTC market both in Spain and in the rest of the world.